Stories and Strategies, the podcast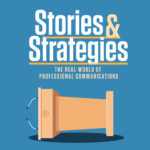 Many see "Communications" as a department that provides communication services to other departments; a distributor of information.
In this podcast, we talk with communications professionals who help organizations realize "Communications" is a key management function based on science, and that it has monetary value.
Listen to Stories and Strategies on Apple Podcasts or wherever you get your podcasts.