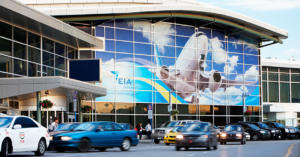 When I started JGR Communications 10 years ago, I knew some clients would be fleeting. They would need some temporary horsepower to finish a project or expertise they didn't have in-house to manage an issue. That's okay. We all need some specialized help from time to time.
Still, that was not the intent of the business. What I wanted to do was build relationships and intellectual equity in the companies JGR Communications served. I wanted to know a client's business. I wanted to know a client's people. I wanted to know a client's stakeholders. I wanted to be the consultant who was part of a team, professionally, intellectually, and personally invested in the success of the client.
Luckily, I hit the consultant jackpot in the first meeting on the first morning JGR Communications started business. The meeting was with Traci Bednard, long-time leader of Edmonton International Airport's (EIA) corporate communications department. I received my first assignments as a consultant that morning. From that first meeting sprang a decade-long relationship.
The breadth of work is remarkable when I think about it. We helped build the company's communications strategy, we prepared and ran integrated communications and marketing campaigns with EIA's international partners,  organized high-profile events, managed myriad issues and crises, oversaw the communications program to introduce the $650-million Expansion 2012 to the community, stuffed media kits, pushed event equipment around the airport and so many other projects and tasks.
Through that decade I am most grateful for staying connected with the people there, helping to evolve the team to meet the needs of the company and match current communications best practices. I also had the honour of leading the corporate communications department for months or even longer at certain intervals over the last decade – a leader under glass – break in the case of emergency.
How did JGR Communications do it? Okay, full disclosure. I cheated – at least a little. I had managed EIA's corporate communications department for over three years before starting JGR Communications. At the time I started the consultancy, I was less than a year and a half removed from that role. I was a known commodity.
No doubt that helps. But no one can ride on past laurels for long at a growing organization that operates all day, every day.
Understand the business
To keep a client for 10 years, understand the business and the broader industry it operates in. Yes, I had that part covered on day one, but organizations change and priorities change. Keep listening and asking the right questions. Anticipate the needs of a changing business and be ready to expand business understanding to meet those needs.
When I started consulting at EIA, the business was moving in a big way to further develop its 7,000 acres of land. Sure, it was great that I had worked with a lot of airlines in the past. Now, I had to learn more about land development, hotels and many other new businesses at the airport, and think through how communications could best support EIA's new partners and development path.
Earn trust, every day 
Friends or not, former employee or not, trust is earned every day by understanding expectations, helping define expectations for initiatives and projects, being honest with what you can or can't deliver and doing what you say you are going to do.
Earning trust every day is important. It builds goodwill and as we say in communications, make ample deposits in the goodwill bank because you will need to withdraw some of that goodwill at some point.
In a decade-long relationship, things happen. Film crews under your oversight go rogue. Suppliers show up late for events. A typo appears in an important document. A project becomes more costly than first estimated.
I have had to withdraw from the goodwill account a few times. Thankfully, it always had a strong balance and my EIA colleagues were always forgiving.
Flex your service offering
At the company's start, my plan was to deliver on the JGR Communications' brand promise – Clear Strategy, Powerful Narrative. Unpacked, it means we are going to do our best to understand the client's situation, stakeholders and business objectives, to build a plan and a compelling narrative that delivers results.
Admittedly, I didn't contemplate taking the reins of my former department from time to time. But EIA needed help and I could do the job, so I did it. I am pleased I did. It allowed me to stay current with the team, build even stronger relationships and further integrate with the company.
Now, this is not an opportunity for every consultant or service business. The point is that if you want to strengthen the relationship with a long-term client, sometimes you need to flex your service offering to meet a need. The only times we have turned down any work from a client is when we knew we did not have the time, skill set or inclination to deliver. In those cases, we usually try to help the client find another provider.
Share outside-these-walls experiences
One of the biggest benefits of hiring a consultant is they will bring experiences from other clients. At the same time, I was remaining invested in EIA, I was becoming invested in our other clients, some of whom needed and wanted substantial support. In the right way, I've been able to share learnings gathered through experiences with clients in other sectors, often leading to more value for EIA.
Share values
Any relationship that lasts 10 years is typically based on more than transactional expedience. EIA's mandate to drive economic prosperity in the region was always a noble and vital one to me, whether as a consultant or as an employee. Although, every company culture has at least some shortfalls, EIA has always strived to welcome the world in a friendly and engaging way, boost the Edmonton Metropolitan Region's image and confidence, and improve how it does things to better serve its mandate.
While EIA must be rigid about safety and security, it also has a can-do, entrepreneurial brand spirit driving its growth over the past 15 years. Most people who work at EIA care and are willing to help get every job done that needs to get done.
Most importantly, whether it was me, or my business partner Doug Downs or any JGR staffer who found themselves working on-site at EIA, we were always treated like part of the team, not just a service supplier.
All these cultural traits Doug and I admire and aspire to, making it easy to continue serving EIA. Clearly, we saw an affinity between our brand and EIA's we'll move you brand.
Underpinning everything is expertise and experience. If you are good at what you do, you have the foundation to build long-term relationships with clients, where you are a trusted advisor and go-to project leader. After 10 years, the relationship with EIA remains strong and our colleagues, including Traci, are some of our biggest champions.
Tips for nurturing a long-term client relationship
Always listen. Then listen some more. Don't think you have the answer before you listen to what your client says is the problem or need.
Ask many questions. Then ask more.
Be a keen observer of new priorities and changes in the company. Anticipate the needs those changes will bring. Be ready to offer solutions.
Talk to as many people in the client company as possible – those relationships will help you, especially in a field as broad as communications.
Bring in learnings from your other clients – offering new ways of doing things can help a client achieve its business goals and show you are innovative and ready to inject new ideas into what you do.
Foster a sense of teamwork. After all, it's achieving the desired result that matters, not individual glory-seeking.
Celebrate team successes. EIA is great at this and it helps build the sense of team (see above).
Learn from the good and the bad. Debrief and be honest about what worked and what could have been better.